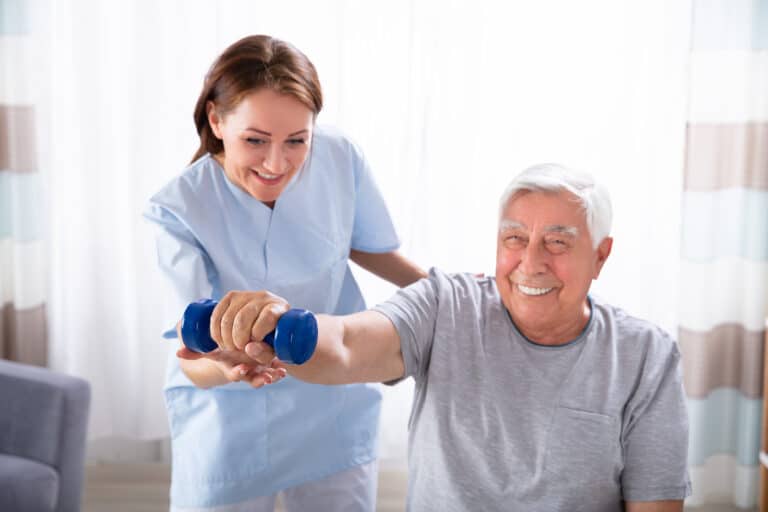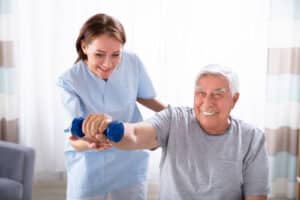 Merriam-Webster defines physical therapy as "therapy that is used to restore, enhance, or restore movement and physical function." It's a mixture of exercises, massage techniques, assistive devices, and education provided by a trained professional in movements and muscle function.
Physical therapy helps with many conditions and diseases. Here are five of the most common health conditions that benefit from sessions with a physical therapist.
Arthritis
Is arthritis pain impacting your dad's mobility? If he's allowing the pain to keep him from moving around as much, physical therapy is essential. The best treatment plan for arthritis is to stay active and lose weight. He needs to get up and move around.
A physical therapist will address the level of pain your dad experiences and come up with exercises that help strengthen the muscles and joints to help him stay active. Massage and the use of heat and cold therapies may aid with inflammation and pain. His therapist will go over all of this with him to find the right methods.
Cancer
If your dad has cancer that impacts his stamina, bones, or joints, he might find it beneficial to work with a physical therapist. Treatments like chemo and radiation can leave your dad struggling with exhaustion. As he regains strength, working with a physical therapist ensures he doesn't overdo it as he regains mobility and stamina.
Dementia
As the brain deterioration continues, there reaches a point where balance and motor skills are impacted. A physical therapist helps your dad maintain balance and motor skills for as long as possible.
When he requires a wheelchair or walker to get around, his physical therapist helps him learn how to use them and adjust to the change.
Heart Disease
Exercise is important when heart disease is diagnosed, but it's equally important to not over-exert or strain the heart. Your dad works with a physical therapist to find the right exercises to help him stay active without risking his heart health.
If he's had a heart attack or surgery, his physical therapist helps him gain strength and stamina. He'll learn how to get enough exercise without causing damage to the gains he's making.
Stroke
Physical therapy is important after a stroke. As a stroke often leaves people without the ability to fluidly move one side of the body, a physical therapist helps strengthen the connection between the brain and the movements of the arm and leg on the affected side.
Your dad regains mobility by relearning how to grasp items or move his leg. If he requires a walker or cane, his therapist helps him learn how to properly use them.
Once you've talked to your dad's doctor, arrange physical therapy sessions. His doctor and physical therapist work with you to ensure your dad's mobility and motor skills are restored or maintained as best as they can be.
If you or an aging loved one is considering physical therapy in Silver Spring, MD, please contact the caring staff at Care At Home today. 301-970-9706
Latest posts by Ann Smith RN
(see all)