Skilled Nursing Care at Home
We have a variety of compassionate and experienced nurses and caregivers that are dedicated to helping you or your loved one thrive at home. Our team includes; Care Managers, Registered Nurses (RN)Licensed Practical Nurses (LPN), Caregivers, Homemakers, (Companion Care and Personal Care), Certified Nurse assistants (CNA), Certified Medication Technicians (CMT), and Home Health Aides (HHA). We offer visiting nurses and private duty nursing for patients who require skilled nursing care or prefer personalized care from their very own private nurse. It can be challenging to manage illness, injury, or chronic disease at home. The personal attention of a home health nurse can make a big difference. 
Care at Home offers both short and long visits, frequent or infrequent visits, and short-term or long-term care. Our areas of focus include; Skilled Nursing Care (as directed by your physician), Alzheimer's & Dementia Care at Home, ALS and Parkinson's Home Care, 24-hour and Live-in Home Care, and Veteran's Care. We offer Care Management services and will assist in Senior Moving or Downsizing. You'll love our flexibility and affordability. Choosing the right home care agency is key to optimum health outcomes. With Care at Home, what matters the most is your well-being and achieving your optimal health.
Do you have a loved one who needs a little extra help to be able to stay in their own home? Skilled nursing care may be able to close the gaps and help your loved one age in place. Not only will your loved one be more comfortable in their own home, but skilled nursing care at home is often more affordable than a nursing home.
What is skilled nursing care at home? Will Medicare pay for it? How do you know if your loved one would benefit from skilled nursing care? Here's what you need to know about skilled nursing care at home.
What Is Skilled Nursing Care at Home?
Skilled nursing care at home is medical care provided by (or under the direct supervision of) licensed health professionals like nurses and speech, physical, and occupational therapists. A person may need skilled nursing care on a short-term basis, like to recover from an injury, or over the long-term for patients who need a high level of care due to a chronic medical condition.
Types of Skilled Nursing Care
There are many different types of skilled nursing care, including:
I.V Infusions

 

Monitoring health status

 

Wound care

 

Chronic Disease Management

 

Diabetes Management

 

Injection Administration

 

Total Parenteral Nutrition (TPN)

 

Enteral Nutrition (Tube feeding)

 

Chest Tube Drainage
Trach Care

 

Ventilator Care 


"Home care" is different from "home health care." Home care consists of non-skilled care like housekeeping, cooking, cleaning, dressing, and providing transportation to appointments or shopping.
What Types of Services Are Included With Skilled Nursing Care at Home?
Skilled nursing care at home may include services such as:
Medication management
Setting Up Daily Pill Planner to ensure safe administration
Patient and caregiver education

 

Nutrition management
Pain management
Providing exceptional Skilled Nursing Care at Home for seniors and families in Silver Spring, Bethesda, Potomac, Chevy Chase, Rockville, Olney, Laurel, Columbia, & Ellicott City and near by cities.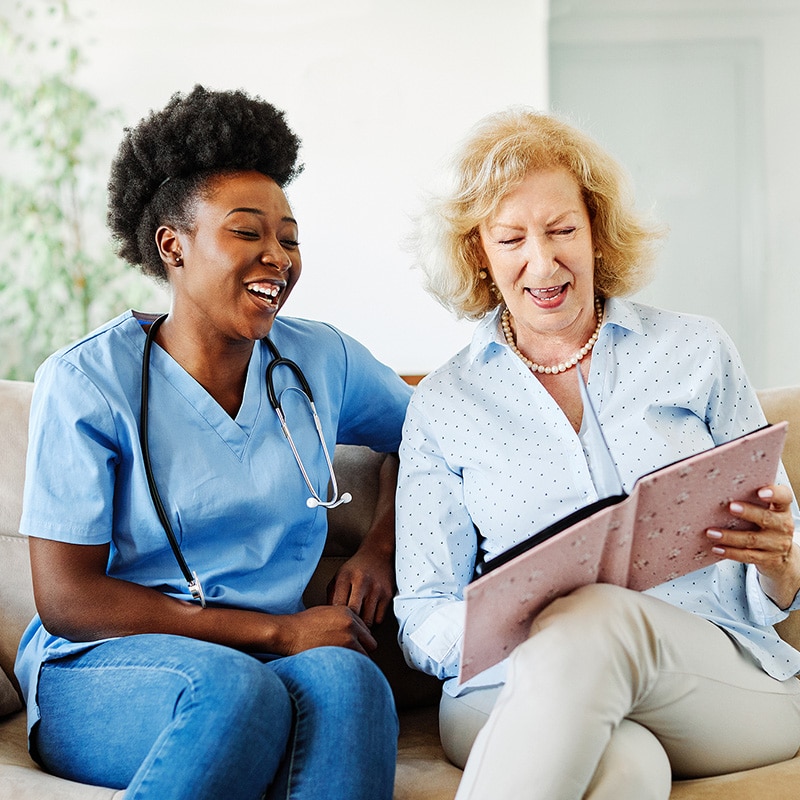 Is Skilled Nursing Care at Home the Same as Home Health Care?
Yes, skilled nursing care at home is the same as home health care. However, "non-medical home care" is different from "home health care." Home care consists of non-skilled care like housekeeping, cooking, cleaning, dressing, and providing transportation to appointments or shopping.
The good news is that home care and home health care can work hand-in-hand to give your loved one the best possible quality of life.
Read the kind words from previous clients. Our testimonials and reviews help families discover how dedicated we are to customer satisfaction.
What Are the Benefits of Skilled Nursing Care at Home?
Skilled nursing care at home has a variety of benefits, including:
Lower risk of falls and hospitalization
Social engagement
Specialized therapy
Personalized care
Caregivers face less burnout
Companionship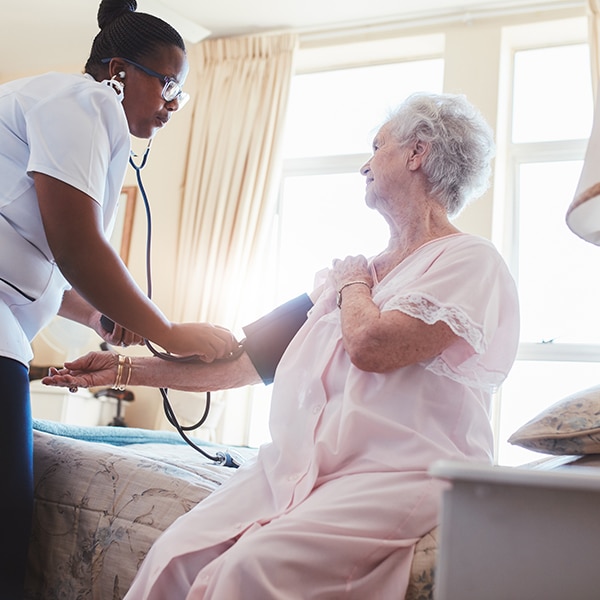 Don't underestimate the impact companionship can have on your loved one. According to the Centers for Disease Control and Prevention (CDC) (1):
"Loneliness and social isolation in older adults are serious public health risks affecting a significant number of people in the United States and putting them at risk for dementia and other serious medical conditions."
More specifically, studies have shown that:
Social isolation is associated with approximately a 50% increased risk of dementia.

Loneliness is associated with higher rates of anxiety, depression, and suicide.

Social isolation significantly increases people's risk of premature death from all causes.

Poor social relationships are associated with a 32% increased risk of stroke and a 29% increased risk of heart disease.

Loneliness among heart failure patients is associated with a 57% increased risk of emergency department visits, a 68% increased risk of hospitalization, and a nearly 4 times increased risk of death.
Looking for in-home care in the Silver Spring MD area? Learn more about our non-medical home care options including companionship, safety, meal preparation, and more.
What Does a Home Health Skilled Nurse Do?
Home health skilled nurses can do a variety of things, including (3):
Injections
Wound care for a surgical wound or pressure sores
Nutrition or intravenous therapy
Caregiver and patient education
Monitor serious illness and unstable health status
Learn how Care at Home will make a difference in the life of a senior you love. Read more about what we value and our mission.  This drives the process we use to provide the best service possible.
How to Tell When Your Loved One May Need Skilled Nursing Care
Are you unsure of whether your loved one needs skilled nursing care? Here are some signs to look for (4):
Recent discharge from the hospital
A New Medical Diagnosis
Recent Surgery
Reduced upkeep of the home
What to Look for When Hiring a Skilled Nursing Care Provider
What type of employee screening does the agency do?
Can the agency provide references?
Is the agency licensed by the state?
Do the employees seem helpful and friendly?
How does the agency monitor and train skilled nursing care providers? Do they provide continuing education?
How are billing and expenses handled?
How much does it cost, and what is included in the cost?
When can services begin?
Will we receive a written care plan before services start?
Will you work directly with me, my loved one, and their health care providers?
What procedures are in place for emergencies?
When are services provided?
If you or your loved one need skilled nursing care, we can help you find the perfect provider. Contact us today to learn more.
Ready to get started? Click below and fill out our form. We will connect with you, answer your questions, and provide information on how home care works.
Loneliness and Social Isolation Linked to Serious Health Conditions, Centers for Disease Control and Prevention, https://www.cdc.gov/aging/publications/features/lonely-older-adults.html

David Levine, Identifying the Right Time for Senior Care, US News & World Report, https://health.usnews.com/senior-care/caregiving/articles/identifying-the-right-time-for-senior-care

Home Care Services: Questions to Ask, Mayo Clinic,

https://www.mayoclinic.org/healthy-lifestyle/healthy-aging/in-depth/home-care-services/art-20044609