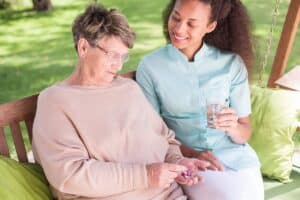 Diabetes keeps your elderly family member's body from processing sugar correctly, and it can lead to other complications and issues. Once your senior is diagnosed with diabetes, there are some situations that you need to look at a little more closely and possibly plan to manage. 24-hour home care can make a big difference in how well your elderly family member is able to deal with her diabetes diagnosis.
Learning as Much as Possible about Diabetes
Diabetes is a really complicated condition and it affects each person slightly differently. Your elderly family member needs to learn as much as she can about what she should expect as she manages diabetes in her life. There are a variety of different treatment options that might be available to your senior, depending on the extent of her diabetes. If she's also dealing with other chronic health conditions, she may need to make some specific changes to accommodate her needs.
Checking Blood Sugar Numbers Regularly
One big piece of the diabetes puzzle is for your senior to make sure she's checking her blood sugar numbers regularly. That can be difficult for some seniors to master, especially if your elderly family member is also dealing with cognitive changes that make learning new skills difficult. Having 24-hour home care providers there with her can help ensure that she's getting tested regularly.
Taking Prescribed Medications as Intended
If your elderly family member takes medication for diabetes, it's crucial that she remembers to do so as prescribed. That might mean taking her medications at a specific time or with food, whatever the instructions are. Having help from senior care providers to remember when and how to take her medications makes all of that so much easier.
Dietary Changes
One of the simplest ways your senior's doctor might recommend that she gets her diabetes under better control is to make some dietary changes. But that might feel way more complicated to your senior, especially if it means eating different types of foods than she's used to. 24-hour home care providers can make all of that easier, helping her to remember to eat on time and eat foods that are right for her needs.
Adjusting Activity Levels
Your elderly family member might be less active than is ideal for her health, too. Increasing her activity levels by even a little bit can have some really great results for her overall. Your senior needs to start out slowly, however, and with the blessing of her doctors. If she can find some exercises or activities that she finds enjoyable, she's much more likely to stick with them. From there, she will start to see a lot more benefits to being more physically active on a regular basis.
Your elderly family member can live a very full and happy life, even with serious health conditions like diabetes. Much of what happens next might depend on the types of assistance that your senior has to support her on both good days and bad ones.
If you or an aging loved-one is considering 24-hour home care in Potomac, MD, please contact the caring staff at Care At Home today. 301-970-9706
Latest posts by Ann Smith RN
(see all)